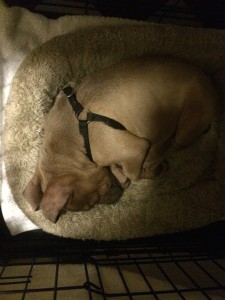 Adopting a rescue dog turned out to be more arduous a process than I'd anticipated. I started by surfing the net for local groups and almost immediately discovered Second Chance Rescue, a non-profit dedicated to finding "forever" homes for animals that have been abandoned. Lulu-Belle (then "Arabella") turned up not far behind. Second Chance dogs were listed alphabetically. It helped that her name began with an "A."
To apply to adopt through Second Chance or just about any online rescue group you have to put in for a specific dog. I filed for Lulu-Belle.
The online application asked for a considerable amount of information starting with name and contact info but then going much deeper. Date of birth. Employment. Employment of others in the household. A reference from a vet. Two personal references. Did I own my home or apartment or rent? How long had I resided there? Did I plan on moving in the near future? If so, where and when? A list of all the people who currently lived at my residence. A list of all the pets that currently lived in my household. A history of any pet I had ever owned in the past. Had I ever taken one of my pets to a shelter or given an animal away? Who would be responsible for my new dog? How many hours each day would my new dog be alone? How many hours a day did I plan to spend with my dog? Where would my new dog be kept when I was home? Where would my new dog sleep? How and where did I plan to play with my new dog? Who would care for my new dog while I was on vacation? Once this part of the application had been processed there would be a phone interview, then a home visit. At that point I would be interviewed again.
You get the picture. Getting approved for a dog was as daunting as getting approved by a Manhattan coop board.
Around this same time I registered with Match.com. I didn't feel ready to date but decided that I should start anyway. I wasn't young. Not getting any younger. If I went through the motions maybe something would click. Action breeds motivation—a line I'd read in a self-help bestseller back in the '80s. It has been my motto ever since. So just as I started browsing through listings for dogs I began browsing through listings for men.
I found it unnerving. Everyone on Match seemed to know who they were and who they were looking for. I found it harder to say. Everyone seemed to be in search of a lifetime soul mate. Was I? Sounded good in theory, but in practice? And hadn't I already had one?
Besides, it would take so long to get to know someone beyond introductory chitchat. And I'm quirky. Eccentric some might say. An acquired taste few might care to acquire. Could I handle having that likelihood confirmed?
A dog—especially a puppy like Arabella—would be a lot of work. Instant commitment. But the relationship would be so much clearer, right from the start. And best of all: a dog would never leave me. Before long I was looking only at dogs.
I canceled my Match.com membership after three months without having gone on so much as a single coffee date.
My sister had recently adopted a rescue in our native Philadelphia. She said that usually by the time online groups like Second Chance have finished screening you, the dog you're trying for has been adopted by someone else. I felt a pang and braced myself to lose Lulu-Belle before she was properly mine—and started doing everything in my power to hurry the Second Chance process up.