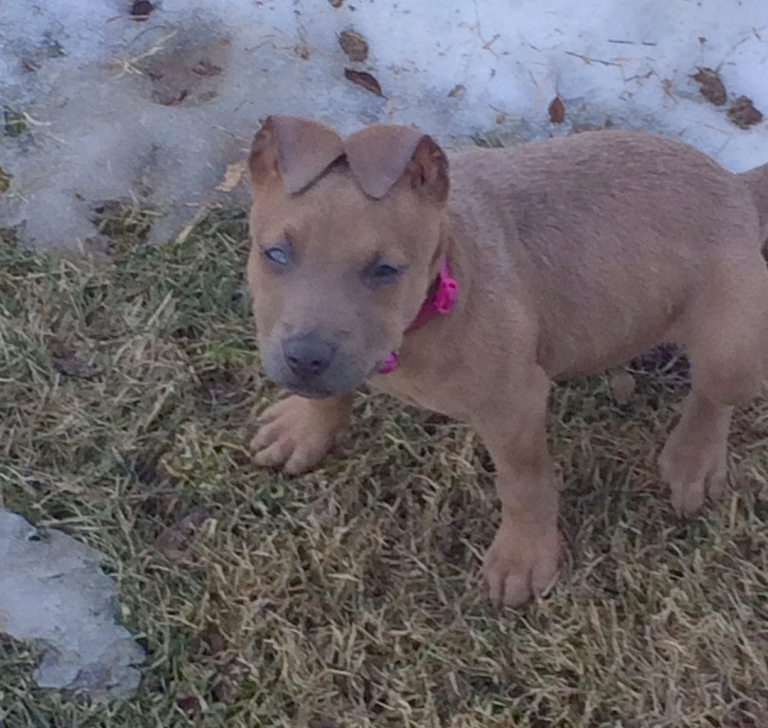 Let me get this out of the way: my rescue puppy Lulu‐Belle is not completely blind. It turns out that her left eye can detect light. Dr. Jay Harrington, a veterinary ophthalmologist practicing in Brooklyn, confirmed this after a thorough examination. But I adopted Lulu‐Belle believing that she was totally blind.
"Blind Dog" was the only description beside the photo of the cute but forlorn looking puppy featured on Second Chance Rescue's website. That description alone made me want to take her in—not only because she was blind but also because her description was so pitifully spare. Where all the other dogs were paired with paragraphs of robust, upbeat descriptions written by those fostering them—loves kids, tolerates cats, if I didn't already have a dog I'd never part with Misti—Lulu‐Belle somehow warranted only those two words. I motored through other listings but my heart was already parked back on "Blind dog."
This was in early March. Back in October, my longtime relationship had ended one week shy of seventeen years. Its demise was of my doing but not my choosing if that makes any sense. In retrospect I see that I'd invited it but wasn't the one to make the call. So when my partner said done, I was caught oddly unawares. Besides being stunned I was hurt and scared.
My friend Rick happened to be in town at the time. Even though he lives in Malibu he somehow always manages to be here in New York City when I need him most. He took me out to dinner and—among other things—told me: "Some good will come of this." From that night on I looked hard to see what that good might be.
A year before I'd gotten Hazel, the sweetest, silliest French bulldog on the planet. I'd secretly hoped to get a second Frenchie but my ex doesn't care for dogs. It was a miracle that he'd agreed to Hazel. So maybe the good that Rick had so confidently predicted would come in the form of a puppy, something that could never have happened if I was still with my ex. The new dog would be my silver lining. My lemonade from lemons. Victory snatched from the jaws of defeat.
I talked about getting a new puppy with Hazel's breeder but the more I thought about it the more I realized that I already had the world's best French bulldog. Why try to duplicate that experience? And I'd always had a niggling feeling of guilt that I hadn't first chosen a rescue when there are so many dogs out there needing "forever" homes. So I began searching for a rescue online. The listing for Lulu‐Belle was the very first one I spotted.
She wasn't Lulu-Belle at the time. She'd been christened "Arabella" by the volunteer from Second Chance Rescue who'd pulled her from a high-kill shelter in San Antonio. She'd wound up there as the runt of a litter abandoned in a local field. With that provenance in mind, the shelter listed her as "Meadow." I'd intended to call her "Lulu" but added "Belle" from "Arabella" in deference to her Second Chance Rescue name. Without Second Chance Rescue she never would have come into my life.
So a lot of lucky timing was involved in her surviving let alone our connecting. I guess life is always about timing but in our case it seemed especially so.
But some critically unlucky timing lay almost immediately ahead.